3 August 2011
James Service
ArchiCAD, Tip of the Day
Guide Lines have been been overhauled in ArchiCAD 15 for the first time since their introduction in ArchiCAD 10.  If you like the old way of Guide Lines appearing (options popping up) you can 'Force' their display using the "i" key on OSX and the "~" tilda key on Windows.
If you 'Force display while hovering over a point you can activate Guild Lines at an or the regular angle by gesturing with the mouse.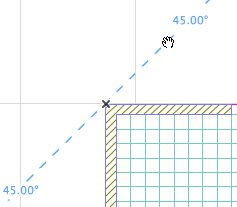 Hovering over an edge and Forcing a Guide Line will result in a Guide Line being created on that edge instantly.