Published in Development

The first change you will notice is that the 'Full Detail – Quick Settings' control has vanished.

This control was introduced a couple of years back, with the intention of making it easier to use the tool at a basic level (Quick Settings mode), but provide extra control if required (Full Detail). The concept seemed good in theory, but in practice caused more problems than it solved. The main problem was that it was easy to forget which mode you were working in, and this resulted in confusion. In Quick Settings mode, settings tended to disappear, leaving experienced users puzzled and frustrated. While the solution was simple enough, the pain was undeniable.

So we've removed this global setting from the library parts, and have replaced it with local controls wherever such controls can help to simplify the user interface.

Some examples of this include:

· Wherever several materials are presented together, a Link button is provided so that all can be set simultaneously.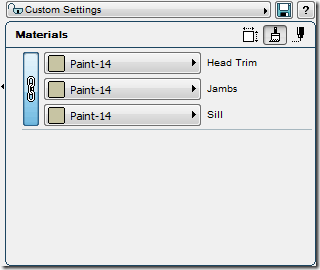 · Wherever pens, fills and linetypes are presented, an Attribute Preset can be used to set multiple attributes simultaneously.