Published in ArchiCAD, Company News, News

Auckland, New Zealand – 11 May, 2012 – Graphisoft New Zealand

Masterspec recently announced the results from their 2012 Nationwide BIM Survey. With a total of 524 industry respondents (81% architects and architectural designers), the results provide a credible picture of present day standards, attitudes and the progress made towards BIM in New Zealand.

The survey results clearly show Graphisoft ArchiCAD as the BIM software standard among New Zealand architects and architectural designers.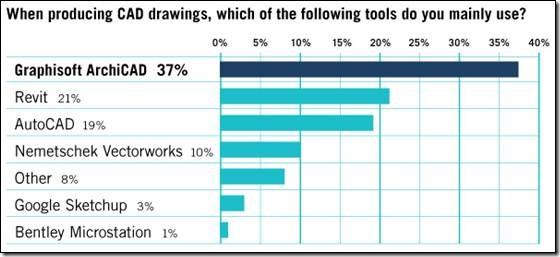 Key Results:
- ArchiCAD dominates with 37% of the industry using it as their primary tool to produce CAD drawings, this is nearly 2 times more users than 2nd place Revit.
- ArchiCAD would have an even higher percentage of users (around 45%) if the survey were exclusively for architects and architectural designers.
- 75% saw BIM as the future of project information.
- 90% believed that they would be using BIM within 5 years, and 70% believed that they would be using BIM in one year's time.
Campbell Yule, 
Managing Director of Graphisoft New Zealand says, "we're rapt with the results. We have seen ArchiCAD sales climb back to historic highs, and 2012 looks like a great year.
The bulk of demand is being led via the Christchurch rebuilds and their need for quality and productivity efficiencies. To us, this survey backs up ArchiCAD as the industry leader in the New Zealand architectural BIM CAD software market."
We believe you don't become market leader on software alone. Our focus since establishing in 1991 has always been on service and after sales support. Even though we sell software solutions, our philosophy is to be 'a customer led company.' We don't just distribute software, we help every step-of-the-way and the majority of the Graphisoft team is Architecturally trained allowing us to easily communicate with our customers.
Beyond the recognition from architects and architectural designers, we're also very excited with the release of ArchiCAD 16 and its comprehensive ecosystem of solutions to help create, share, and find custom BIM Components. Built-in Energy Evaluation also turns ArchiCAD 16 into the "greenest" BIM solution available today."
Graphisoft New Zealand Limited
Graphisoft New Zealand has been the exclusive distributor for ArchiCAD in New Zealand since 1991.
Graphisoft New Zealand is part of the Cadimage Group which develop, distribute, support and service an integrated range of design and evaluation software for the Architecture, Engineering and Construction industry in New Zealand and internationally.
Cadimage Group distributes: ArchiCAD, Artlantis, Solibri Model Checker, Solid Edge and Femap, as well as developing and exporting their own software.