17 April 2013
Andrew Watson
ArchiCAD, Tip of the Day
Library parts come in all different types. A library part might set out to model a door, a window, a lamp or a chair, a piece of structural steel or a car. To make your library part behave the way it should, it's important to choose an appropriate subtype.
To choose a subtype for the library part, open the library part you created earlier (File > Libraries and Objects > Open Object) and click on the Details button. Then click on the Select Subtype button at the top right of the dialog.

Now browse to select the most appropriate object subtype from the Subtype Hierarchy list.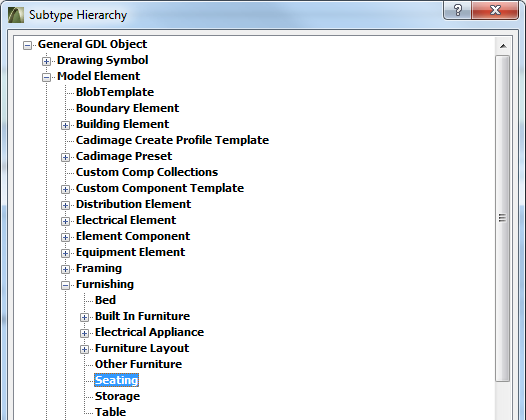 For some object types the choice will be a no-brainer. In this example, I intend to design a bar stool, so I have chosen the appropriate Seating subtype.
If you're not sure which subtype to choose, don't take a guess, and don't waste time searching for an appropriate subtype. Instead, cheat by choosing the same subtype that was assigned to a similar library part in the standard ArchiCAD library.
To check which subtype should be used:
Browse the ArchiCAD library for a similar library part.

Place the library part into your ArchiCAD project.
Select the library part.

When the library part's GDL Editing window comes up, click on the Select Subtype button to check which subtype was selected for this library part.
Now you know which subtype should be used, assign it to your library part.