29 August 2013
Glen Richardson
Keynotes, Tip of the Day
Cadimage Keynotes can be assigned to ArchiCAD Attributes, so they then get automatically assigned to any elements which use those Attributes.
Open the Keynotes Attribute manager by selecting Keynotes > Attribute Keynotes from the Cadimage menu.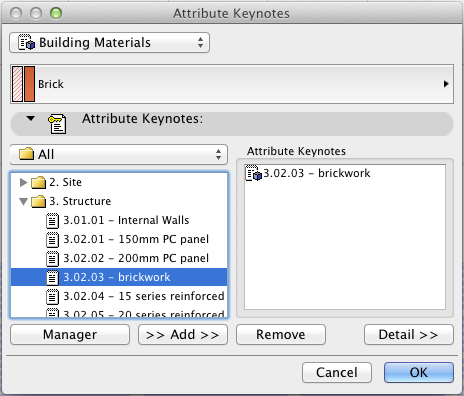 Select the Attribute Type and the attribute to attach the Keynotes to.  (In ArchiCAD 17 Keynotes can be assigned to the new Building Material Attributes, these keynotes will also be included in any Wall, Slab or Roof using a composite which includes the Building Material).
Find the Keynote(s) you want to attach and click the add button.
Attribute Keynotes can be attached to:
Building Materials – For Keynotes relating to the different skins of the composites
Composites – for the overall keynote of a Wall, Slab or Roof structure.
Surfaces – applied if the building material surface is overwritten.
Profiles – for Profiled Beams, Columns or Walls
Fills – for Tiled or Paved areas
Line Types – for Site Service Keynotes like Drainage or Water supply