1 August 2013
Glen Richardson
ArchiCAD, ArchiCAD 17, Keynotes, Tip of the Day
With ArchiCAD 17 we have introduced a new Palette for Keynotes, the Edit Keynote Palette.
To activate it select Keynotes > Edit Keynote Palette from the Cadimage Menu.
It works in combination with the Keynotes Palette, if you select a Keynote in the Keynotes Palette, the Edit Keynote Palette will be populated with the selected Keynote information.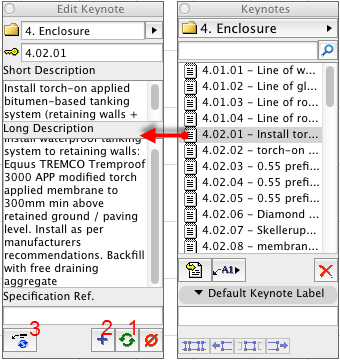 You can use this to check the entire contents of the selected Keynote, or you can adjust it and either Update the selected Keynote by clicking the Update button (1), or Add a new Keynote by clicking the Add button (2).
When you have completed making changes to the keynotes click the Update Keynote Labels button (3) to update any labels which have already been placed.