6 August 2013
Glen Richardson
ArchiCAD 17, Keynotes, Tip of the Day
Keynotes for ArchiCAD 17 allows you to search for a word or phrase.
Bring up the Keynotes palette using the Cadimage > Keynotes > Keynotes Palette menu.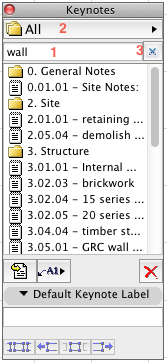 Type the word or phrase you want to find into the search field (1) and your list of keynotes will only contain notes with that word or phrase.
It can show Keynotes for just the selected Category or you can select All Categories (2), to search the whole keynotes database.
Click the x button (3) to cancel the search or just type a different word or phrase to do another search.