17 September 2013
Glen Richardson
ArchiCAD, ArchiCAD 17, Keynotes, Tip of the Day
Adding Element Keynote Labels is even easier in ArchiCAD 17 with the updated format of the keynotes palette.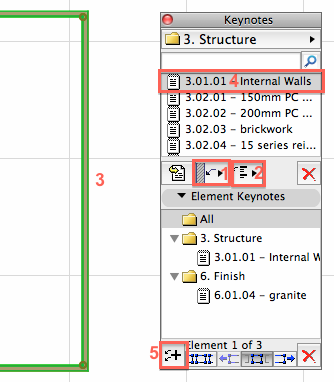 1. Select Element Keynote Label mode.
2. Select the Element Label type:
Single Keynote – only one keynote per label
Single Category – all of the keynotes for a category will be included, also additional keynotes added to that category will automatically be added to the category label also.
All Keynotes – all keynotes assigned to the element will be included in the label, any additional keynotes added to the element will automatically be added to the label also.
3. Select the elements you want to add keynotes to.
4. Double click on the Keynote you want to add (this keynote will be added to all selected elements).
In addition to this the default label will be set up ready to be placed beside the first selected element.
 5. Or you can add Keynote Labels to all of the selected elements by clicking the Add Element Labels button.
Depending on the Element Keynote Label Type one or more Keynote labels will be attached to each selected element:
Single Keynote – One Keynote Label will be added for each keynote
Category Keynote – One Keynote Label will be added for each Category
All Keynotes – Only one Keynote Label will be added to each element containing all of the Keynotes