4 October 2013
cadimage
ArchiCAD, Tip of the Day
Frequently after a new release we get people contacting our support team saying that things are not working correctly in their new version of ArchiCAD.  Normally this is due to the migration process, or more accurately, lack of migration process.
Quite often migrating a project from one version to another is not as simple as opening the project in the new version and carrying on.  There are normally a number of settings which can change from version to version
A great example of this is the pen sets.  Version 17 saw the introduction of 2 new lines of pens to the standard pen sets. We can very easily introduce these pen sets to a file that was started in an  earlier version through the Attribute Manager.  Open your old project in 17 then go to Options > Element  Attributes > Attribute Manager…
Select the 3rd option in the row at the top, this will display the existing pen sets. Then click on Open… button under the selection panel on the right hand side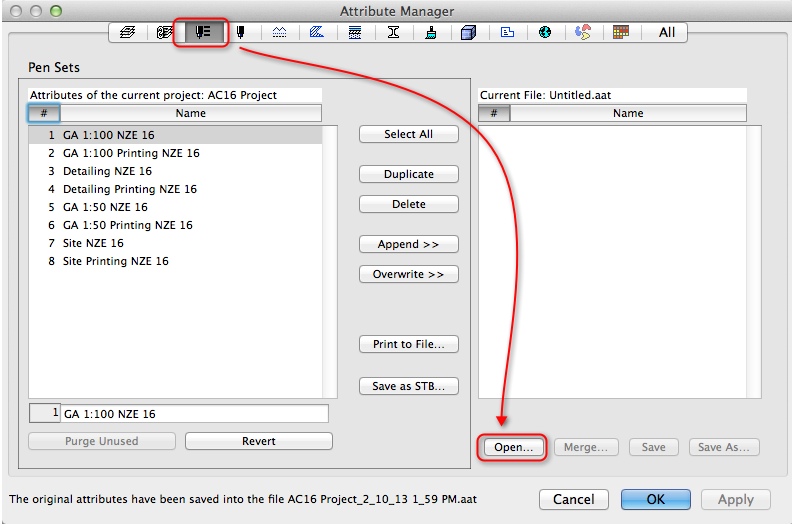 Navigate to the default template that was installed from your DVD. This will be either
Applications>Graphisoft>ArchiCAD17>Defaults>ArchiCAD (MAC) or
Program Files/Graphisoft/ArchiCAD17/Defaults/ArchiCAD (PC)  and hit OK
You can now select all of the pen sets in the right hand panel and click the <<Overwrite  button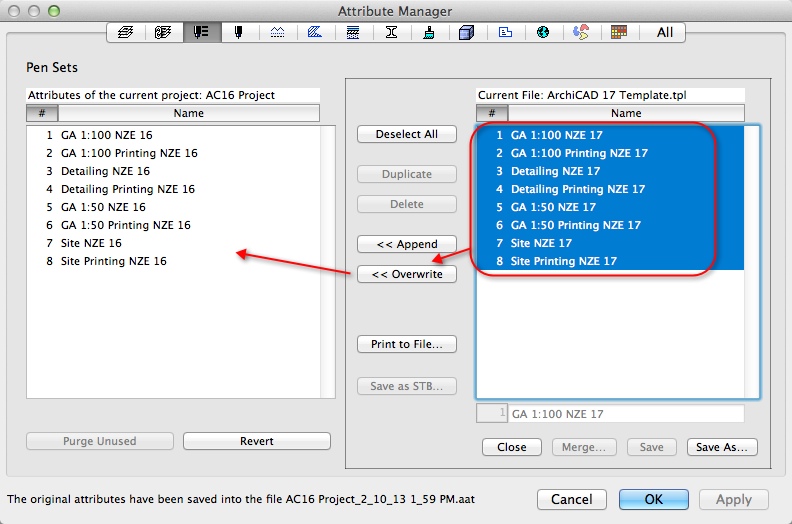 Overwriting the existing pensets means that you will not have to modify any of your existing saved views as they will all be updated with the new pen sets.  If we Append the Pensets, then we will have to go through and update all of the views accordingly as they will all still have the old pen sets.
This process can be used for any of the attributes in the attribute manager.  Bear in mind though that not all attributes may require updating.