5 February 2014
Jonathan Breen
ArchiCAD, ArchiCAD 17, Tip of the Day
Since you have build a perfect 3D representation of the proposed building it seems a waste of time for the Quantity Surveyor to take a scale ruler to a set of 2D drawings to figure out quantities.
ArchiCAD can find out anything about all the elements in your project using the interactive schedule, it may save time & money to assist your QS with accurate values from your model to put costing to. For examples how about the floor finishes of all the rooms using Zones? :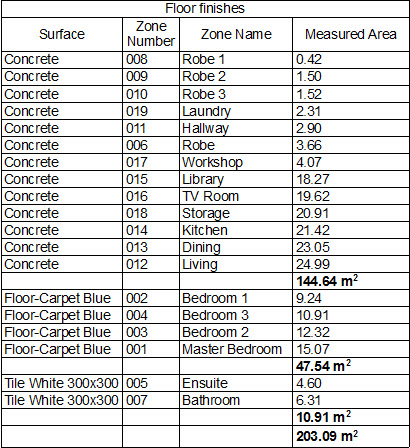 To get set up & understand how to start creating your own detailed Interactive Schedules heres a great guide: http://helpcenter.graphisoft.com/guides/archicad-17-int-reference-guide/virtual-building/archicad-model-views/interactive-schedule/
It goes through 10 short pages about all the features & capabilities, by the end of that you may save yourself hours & $ in producing more accurate detailed schedules.