4 June 2014
Joshua Osborne
18Days, ArchiCAD, Tip of the Day
Ok, so this not not an ArchiCAD 18 New Feature, but I figured I would sneak it in anyway, because this year marks the 30 year anniversary of Graphisoft!
They have made a cool little page over at www.archicad.com which shows you the history of the company through the years – with interesting (I thought) info about milestones for the company and releases of their software.
You can also share your own story about ArchiCAD there too, as you reminisce about loading ArchiCAD 4.5 from a boxful of floppy disks, or lament the loss of the once-mighty Plotmaker somewhere in the mid-2000s (lest we forget).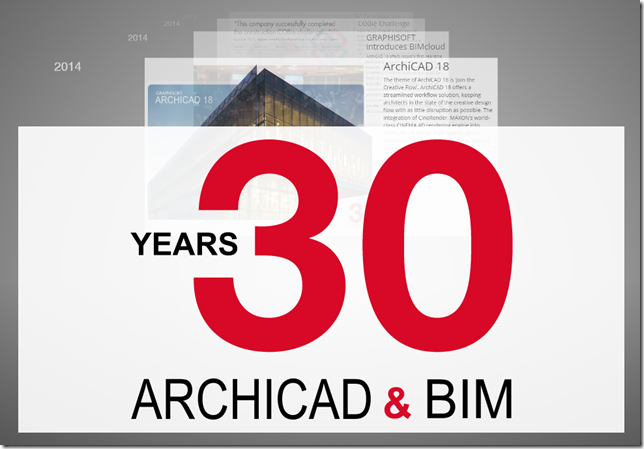 I first started out with ArchiCAD just as version 8.1 came out – I actually still have the certificate for attending the "Introduction to ArchiCAD" training course. The world was new then – we had Ghost Stories, 32-bits, PowerPC macs, and if we wanted to get anything done, you did it with a single processor core.
But enough about me – head over there and share your own now: www.archicad.com