15 October 2014
Cadimage
Company News, General, Website
We've now enhanced myCadimage (our Customer Portal) known as so that you can update your Time Zone settings.
That means that if you lodge a Support Ticket; view your Order or Login History, you will see activity based on your actual Time Zone, not simply where our system thinks you are.
To update your Time Zone preferences, log in to myCadimage.com, then choose My Account > Company in the Navigation Bar: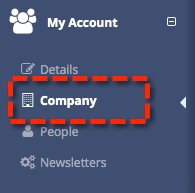 At the bottom of your Company information, you will see a brand new option called 'Time Zone' – simply choose your local time zone and click Update.