26 November 2015
Joshua Osborne
ArchiCAD, ArchiCAD 17, ArchiCAD 18, ArchiCAD 19, Cadimage, Tip of the Day, Tools
When Migrating a project from version to version, it is important to remember to Migrate the Libraries too.
When you first open a Project in a new version, the following dialog will appear…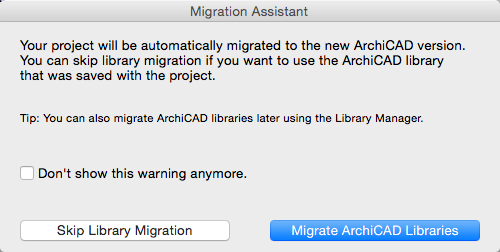 All you need to do is hit the Migrate button… but what happens if you hit Skip?  The project will likely open as normal – but if you try to use Cadimage Tools for example, you will encounter some problems.  This is because the Project will be in the latest version – but will continue to use the old Library.
If you have skipped on the first dialog – don't worry, it can easily be fixed by going to File> Libraries and Objects> Library Manager… and clicking the Migrate Libraries button highlighted below: