27 May 2016
Mark Horrocks
ArchiCAD, Tip of the Day
Generally for a single story house you need to create 3 Storys; 0.Sea Level/ Datum, 1.Ground Floor & 2.Roof.
0.Sea Level/ Datum is where you construct your 3D mesh and draw your site info.
1.Ground Floor is where you Model your ground floor; walls, slab, windows/ doors, furniture etc.  This is also where you 'Draw' all your additional 2D information for your construction documentation; electrical info, plumbing runs, slab setout or floor joist-bearer and pile layout (you could model these if you need to see them in elevation)  this additional drawn info is placed on separate layers that represent a specific view (and therefore a Layer Combination)
2.Roof is where you model your roof and roof coverings, also 2D info on rafter layout etc.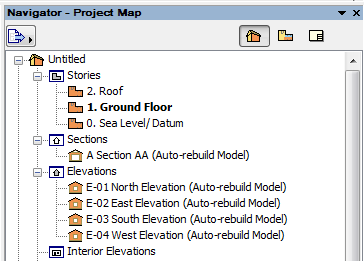 Elevations should generally be derived from the model with just text and fills to pretty them up.
Sections should also be derived from the model with added Cadimage Detail Elements to show framing and ceiling structure and perhaps some masking fills and notes.
Details can be derived from the model but typically they are drawn from scratch or grabbed from existing jobs or from manufacturers websites.